14th Honoree - Janelle Stauffer-Wade
This week, we would like to introduce our 14th honoree, Janelle Stauffer-Wade.
She was nominated by her friend, Kelly Camacho.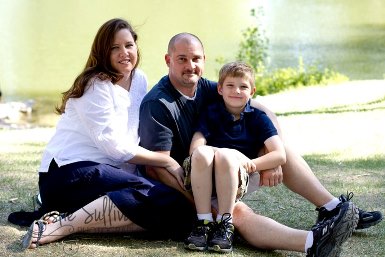 Janelle was on vacation when she felt a lump in her left breast. In the back of her mind, she thought maybe it was nothing and she shouldn't worry about it. She had a breast exam 4 months earlier and no family history, but she figured she should have it checked out anyway. She contacted her doctor when she got back into town. Following an ultrasound, mammogram and biopsy, she received a phone call from her doctor asking her to come see him. On April 10, 2012, at the age of 39, Janelle was told that she had breast cancer.
When she heard the news, her mind went blank. "For a couple of weeks I was in complete denial that it was nothing more than an inconvenient lump and they were just going to cut it out and we were just going to go on, " says Janelle. Then a few weeks later, on April 26th, she had a PET scan. The results were shocking. When compared to the ultrasound, mammogram and biopsy results from 3 weeks prior, her small 2cm tumor had grown to a 4cm tumor and spread to 10 lymph nodes. A new tumor was also discovered attached to her chest wall. She was told she had stage 3, triple negative breast cancer.
The doctors moved quickly. On May 3rd, she began 5 months of chemotherapy. Janelle, who always had thick, beautiful long hair, decided to have it cut and donated to Pantene Beautiful Lengths. Shortly after having it cut, it began to fall out. She decided to have her husband shave her head for her on what ended up being a very emotional day. Although she had purchased a wig, she preferred to wear scarves. "I found a new online shopping habit of buying scarves. I have so many."
Janelle made the most out of her chemo sessions, stating that while it's not optimal, you can always make it a fun time. She made sure to bring her mom or her friends with her to at least one treatment so they could see it wasn't scary and that she was comfortable. Always having somebody by her side is what made it bearable. "It's funny because looking back at it, you're like, wow…that was really bad. But at the time, you're just plugging away at life. It's what you have to do."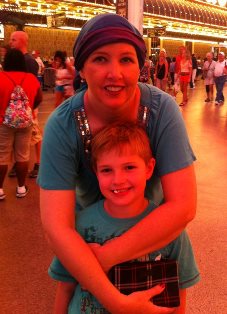 The chemo destroyed her taste buds, but there were a few things she was still able to enjoy. Thai food was her favorite because she could actually taste the spice. "I got addicted to Jelly Bellies because I knew what they were supposed to taste like…and they actually tasted like they were supposed to," says Janelle. One of her nurses suggested using a mint to avoid the metal taste she got in her mouth when they accessed her port so Janelle began carrying candy canes around. Today, she still loves Jelly Bellies but can't even look at a candy cane.
After finishing up her chemotherapy, Janelle was tasked with making the difficult decision to have a double mastectomy. She knew it would be tough but all she could think about was how upset she would be if it came back in her other breast. This was perhaps the most difficult thing she went through. "You can't prepare yourself for it," says Janelle. On October 16, 2012, just three days before her 10th wedding anniversary, she underwent surgery. Adjusting to her new body has been difficult, but she is becoming more and more comfortable with it. "I had a dream the other night that I was in high school and I needed to put a prom dress on but I didn't have any breasts," recalls Janelle, laughing. "My dress wouldn't stay on!" Learning to dress different was a struggle at first. She finds it frustrating being unable to find clothing that fits.
After everything Janelle has been through, she is determined to stay positive. She recalls a couple of ER visits and times when she got really low and down and didn't know how she was going to pick herself up the next day, but she has tried so hard to keep a positive attitude. "I just don't want to be a negative person and I don't want to be an angry person. I want to be loving and caring and not someone that people are afraid to talk to."
Janelle just completed her 35 rounds of radiation in January and her hair is starting to grow back. She has never been more thrilled to have bed head in the morning and noticed that she has the same cow-lick as her 8-year old son. Reflecting back on her experience, she feels so blessed to have such an amazing husband and family. "I hear people say getting cancer is a gift…it's definitely not a gift. I would never give this 'gift' to my worst enemy," says Janelle. "But it has changed who I am as an individual. I don't know that I can say I didn't like who I was before, but I like myself better now." She has more patience, understanding and compassion for people than she did before. She realized that prior to this whole experience, she took her family time for granted. "I can't believe that I have let so much time go by and not focused on my family as much." Now Tuesday is movie night and Thursday is family game night…but every night is family night.
On behalf of the Southern Nevada Affiliate of Susan G. Komen for the Cure, we would like to thank Janelle Stauffer-Wade for sharing her story.
UPDATE: Sadly, Janelle passed away in September 2013 after a courageous and hard-fought battle with breast cancer. She will be forever admired, forever loved, forever missed.
Click here to view our 18 Faces for 18 Races honorees.